International Women's Day: The women that inspire the women of Touchdown
By Maury Chasteau-Simien, D&I Chairperson
International Women's Day is an extremely important day. It is a day to celebrate the women who have been game-changers throughout history, as well as the women in our lives. This year, International Women's Day has another layer to it. It was reported by The National Women's Law Center that 100% of the jobs lost in December in the US were all positions held by women – women have been especially feeling the negative impacts of the pandemic.
International Women's Day (IWD) has been observed since the early 1900s. Women's oppression and inequality spurred women to become more vocal and active in campaigning for change. In 1903, the Women's Social and Political Union (WSPU) was formed in the UK to fight for gender equality. In 1908, 15,000 women marched through New York City demanding shorter hours, better pay and voting rights. Then in 1910 at the International Conference of Working Women in Copenhagen, a woman named Clara Zetkin (Leader of the 'Women's Office' for the Social Democratic Party in Germany) tabled the idea of an International Women's Day.
The first National Woman's Day was observed across the USA on February 28. Women continued to celebrate National Woman's Day on the last Sunday of February until 1913, when women in Russia observed their first International Women's Day on February 23. After some discussions, International Women's Day was agreed to be marked annually on March 8, and this day has remained the global date ever since!
Since then, women have continued to be leaders and to break the proverbial glass ceiling placed by centuries of patriarchy. Now today we can reference amazing women in modern history who broke gender stereotypes, such as Madam Curie, Harriet Tubman, Amelia Earhart, Hilary Clinton, and Kamala Harris.
At Touchdown PR, we're always keen to champion female-led industry advances, from the Cubic transport PR mission, to identifying more ways that businesses can support women in the tech space. We are even prouder to boast a predominantly female leadership team that has led us to great successes throughout the years by implementing this year's theme: #ChooseToChallenge.
In celebration of this day, we asked the women of Touchdown PR to tell us which women inspire them and why. This is what they said: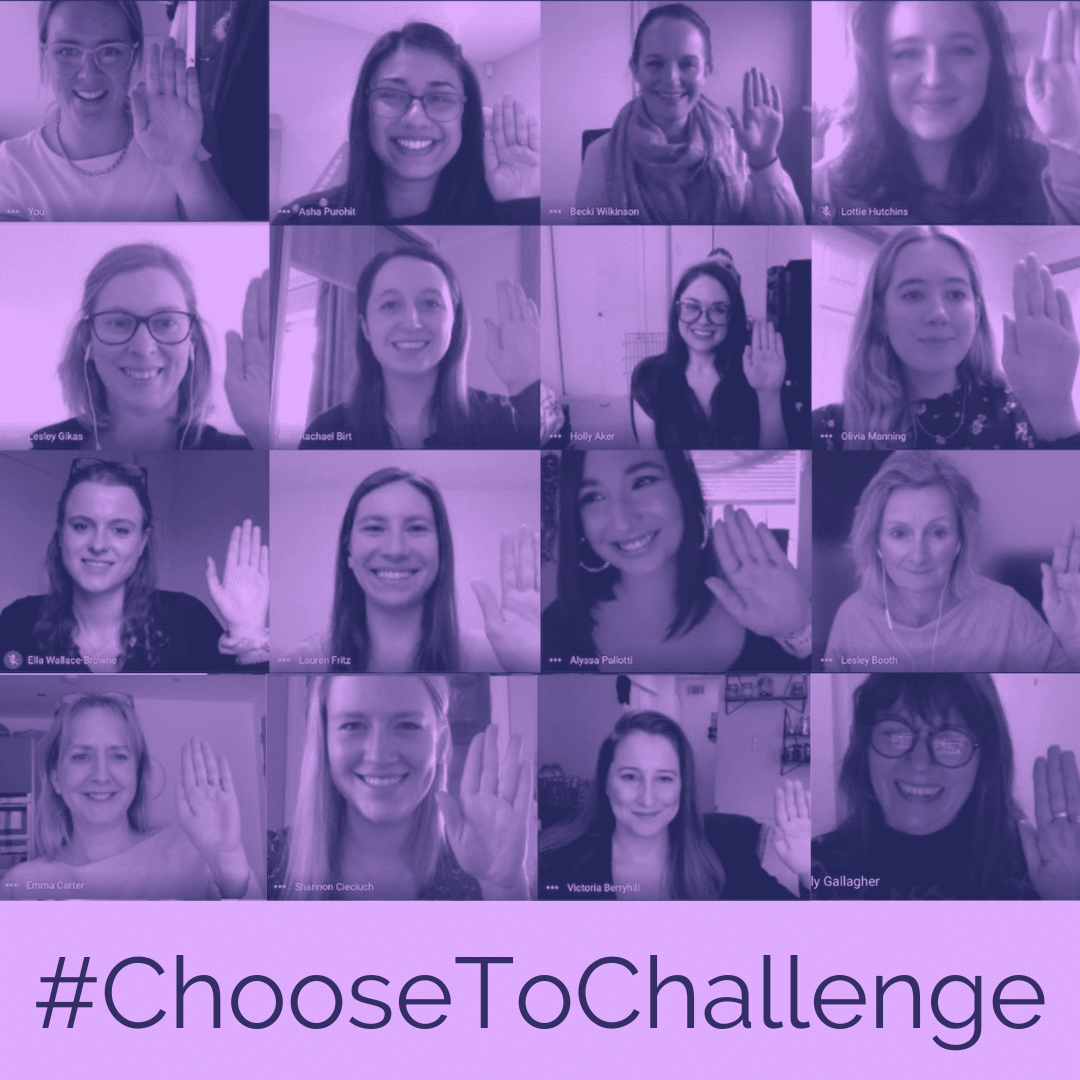 Emma Carter – Director
Which woman inspires you the most? 
Queen Elizabeth II
Why does this woman inspire you?
She has always performed her duties impeccably and done what has been expected of her – always professional, never late, always looking immaculate, and always with a smile. She has soldiered on despite personal criticisms, family tragedies, and family scandals. She is always reliable, rarely cancelling events and never showing her frustrations or upsets. She tirelessly keeps going on, even at the grand old age of 94 years old.
Emily Gallagher – Global Executive VP
Which woman inspires you the most?
My two sisters – Harry and Ollie
Why do these women inspire you?
They keep me grounded, are super awesome,  positively gorgeous, and always have my back. Also, they are both teachers – one primary and one senior – they are inspiring the stars of the future.
Becki Wilkinson – Global HR Manager
Which woman inspires you the most?
Erin Brockovich
Why does this woman inspire you?
Erin Brockovich was an American legal clerk, consumer advocate, and environmental activist, who, despite her lack of education in the law, was instrumental in building a case against the Pacific Gas & Electric Company (PG&E) of California in 1993. She did all of this whilst raising 3 children and also had 4 dogs! Now aged 60, she continues to fight against large companies and is an idol to many women.
Alyssa Pallotti – Junior Vice President
Which woman inspires you the most?
My best friends – Abbey Halgas and Chelsea Hebert
Why do these women inspire you?
Abbey is a trained nurse, a personal trainer, and a mother of two toddlers who honestly is juggling it all so gracefully and with the same sense of humor she had in our college days. Chelsea has overcome so many challenges and tough times in life, yet has graduated from law school, passed the Bar, and gotten a job at the Hartford Superior Court in Connecticut. They both are so ambitious yet are always there for their friends and family, as well as others in their communities.
Asha Purohit – Account Manager
Which woman inspires you the most?
My grandma
Why does this woman inspire you?
She is such a tough cookie and has been through so much in her life but never gave up. When she was young, she really wanted to study English, but as she came from a small village in India, she wasn't allowed to because she was a girl. She then moved to Kenya to get married at the age of 16 and my grandad supported her in learning to be a seamstress to earn a living. Due to changes in the Kenyan government, Asians were forced out of Kenya so she moved to England, working two jobs to earn a living and bringing up young children. She did however manage to learn to speak and read English through her children and grandchildren. Despite suffering from various medical issues over the years, and breaking pretty much every bone in her body, she continues to cook for herself and my grandad every day. 
Lottie Hutchins – Account Manager
Which woman inspires you the most?
Alexandria Ocasio-Cortez
Why do these women inspire you?
Alexandria Ocasio-Cortez is bold, opinionated, and brilliant. As the youngest woman ever to serve in the United States Congress, AOC is already a force to be reckoned with. 
Her delivery is calm, succinct, and she's always poised and well-prepared. Passionate and progressive, she is paving the way for a more diverse and fairer future. She's motivating a  younger generation to be more interested in American politics and is driving positive change for many communities. She's unapologetic and leading the charge on a number of hotly debated issues, including LGBTQIA+ rights, diversity and immigration, economic inequality, and gun control. In my view, she's the political change we need to see.
Alexandra Morris – Brand and Marketing Manager
Which woman inspires you the most?
My sister, Hannah Morris
Why does this woman inspire you?
Over the last 12 months, she's had quite the rollercoaster ride. From losing her job due to COVID-19, having to move out of her home due to maintenance issues which caused all of hers, her partners, and her son's personal belongings to be ruined, receiving countless job rejections despite having all the qualifications, to then go on and complete her CIPD Level 3 through a home learning course, move to a new flat which is dry AND warm, start her CIPD Level 5, secure a role with the NHS on the childrens' ward at the local hospital, All whilst raising my gorgeous 2-year-old nephew, Henry! Her determination and ability to not give up, despite the universe telling her it was never going to happen, amazes me.
Shannon Cieciuch – Senior Account Executive
Which woman inspires you the most?
Both of my sisters-in-law.
Why do these women inspire you?
Growing up as an only child, I always wanted a sister. Luckily, when I got married, I gained two beautiful, kind, and inspiring women as sisters-in-law. Whether it's catering an entire wedding, raising my beautiful nieces and nephew, or running a half marathon like it's their job, they both bring such amazing talents to the table. I'm so beyond blessed to have both of them in my life. 
Olivia Manning – Account Executive
Which woman inspires you the most?
Jill Nalder
Why does this woman inspire you?
Jill Nalder is a gay rights campaigner, activist, and actor. Her story is the inspiration behind the TV show It's A Sin. Jill lived in London in the '80s and supported many gay men affected by the AIDS crisis. She brought groceries, cooked meals, spent time in the hospital, protested and fundraised, at a time when there was a great stigma and fear around the disease. 
Jill's story demonstrates kindness, support, and strength. She inspires me to become a more effective ally and understand how I can use my own privilege and voice to help others.
Lauren Fritz – Junior Account Executive
Which woman inspires you the most?
My mom, Julie Romo-Fritz M.D.
Why does this woman inspire you?
My mom is a woman who continues to inspire me every day. As a first-generation American, she has defied all odds. Since she was a young girl, she dreamed of becoming a doctor and put in the work to make it a reality. During the time that she was in medical school, the majority of medical doctors and students were men. She even had multiple experiences where many people assumed she was a nurse, based on her gender. Despite the lack of women in the medical field, my mom pushed on. She and two other female colleagues began their own medical practice, Lakewood Family Physicians, and were in business for 25 years. She has now been a practicing family physician for 30 years.