Identity Management Day: Building a PR Campaign
By Jay Smith, Account Supervisor 
Let's give 'em something to talk about. As a public relations professional, that's all we're thinking about – no matter if the client you work with is currently thriving or a little stagnant on the news front. PR is all about getting the conversation started – a positive, interesting conversation. Chatter around the brand will work to make the general public more interested and aware of it, which is the ultimate goal.
Nearly a year ago, our team at Touchdown set out to do just that and win a new client that we were all extremely excited about the prospect of working with. That new business lead was none other than leading privileged access management solution provider – Centrify. As our team sat down to put together our plan that we felt best served their PR needs, we needed a fresh idea that would really blow them away.
Arguing that your agency is better than others can be a difficult prospect. There is no "best" agency, but instead, an agency that is the best match for the client. Showing how you match well with the prospective client, that you bring something critical to them, something that they don't get from other agencies, is something we focus on at Touchdown. We know what we do well, and we know how to make it work for our clients.
Leading up to the new business pitch, we knew what we brought to the table, but we also wanted that one big idea that they couldn't say no to. What we came up with was the creation of the first ever Identity Management Day (IMD), a day about raising awareness of the importance of identity management and securing digital identities, and sharing best practices to help organizations and consumers.
Tuesday, April 13, marked the day our idea came to fruition with the inaugural Identity Management Day. By joining up with not only Centrify, but the Identity Defined Security Alliance (IDSA) and the National Cyber Security Alliance (NCSA), the day was an incredible success.
The implementation stage was a lot of work, but as long as you have the imagination and creativity, it can be a lot of fun. And for us, it most certainly was!
IMD has become an exciting and fresh way to encourage participation from and collaboration between identity vendors, partners and customers alike. In addition, it's helped spark engagement with the broader enterprise/government agency communities — and even everyday consumers interested in protecting their own identities.
Raising awareness is especially critical after a barrage of identity-based breaches hit the headlines in the past year including Twitter, Marriott and even Nintendo. There is no better time than now to initiate a yearly reminder on the latest threats and what best practices to follow to prevent organizations and individuals alike from falling victim. 
Some preliminary metrics we saw as a result of the day were: 
40+ media results, nearly half mentioning Centrify

300+ webinar attendees 

IMD Twitter Chat garnered 5.2 million impressions and had over 1,000 engagements. 

160 unique authors used the chat hashtag #IDMgmtDayChat 

We saw major accounts post about #IDMgmtDay in general including Oracle, Dept of Veteran's Affairs, Kaspersky, CISA, NortonLifeLock, the Federal Trade Commission, Crowdstrike, LastPass and the BBB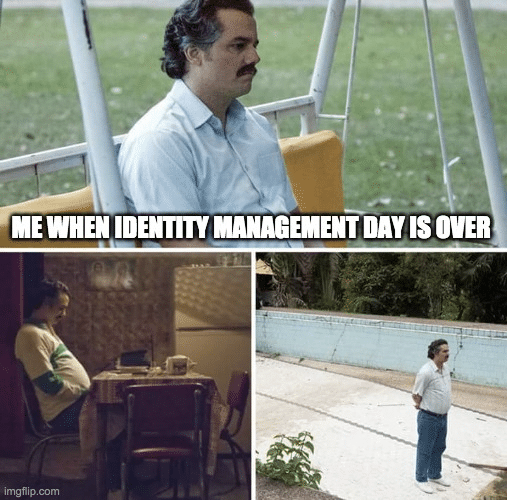 We couldn't be more proud of the inaugural #IDMgmtDay. It's the first 'special day' we've ever initiated and supported from the start, and it's been one of the most rewarding things we've done to watch our brain child grow up. Here's to Identity Management Day 2022 and beyond!