Why choose Touchdown to kick start your career in Tech PR
By Lauren Brower, Account Coordinator
Touchdown PR is an award-winning international communications & tech public relations agency, and come the summer and fall seasons our team is setting its sights on the new PR talent hitting the scene. The Touchdown team is looking for prospective applicants who are freshly graduated and with a degree ready to be put to use. Are you searching for the answers to the post-grad questions of where to go and where to start? Enter Touchdown PR! With a competitive starting salary, inter-office travel and opportunities for professionals abound, read on to learn why Touchdown PR should be on your radar post-graduation.
Salary
We know what you're thinking: now that graduation has come and gone, it's time to start investing in your future and to do that you need money. Luckily for recent grads, tech PR is an industry with an expansive and ever-evolving pool of opportunities. In an industry that can flip on a dime, Touchdown knows that in order to keep up you need to have top talent on your team, and if you want top talent you need to pay them what they're worth. Touchdown prioritizes offering a competitive salary, comprehensive healthcare and dental plan, an up to 3% 401k matching program and more to help you take proactive steps toward setting up your future for financial success. Whether you are paying off student loans while putting your hard-earned degree to work or saving to meet your financial goals, Touchdown wants to play a role in helping you achieve those milestones.
Career progression
With offices and clients all around the world, there is no shortage of opportunities. Not only that but when you work in an industry like tech you get to work with clients from every sector that can be classified under the "tech" umbrella. Each day you come to work you can expect a new set of goals and objectives that constantly keep you learning and developing your skills. Touchdown takes your career progression seriously and performs routine evaluations to make sure you are earning promotions and raises when your work warrants it. For example, one of Touchdown's newest additions, recent University of Texas at Austin graduate Katie Stam started with Touchdown back in May of this year as an Account Coordinator. In a short time, she has already made such an impact on the company that she was promoted to Junior Account Executive after just five months.
Here is what Katie had to say about her experience with Touchdown so far, and how she feels Touchdown values and fosters her career progression:
"Touchdown had so many opportunities for me to prove myself and advance. I was able to travel to a conference for a client and attend an off-site with another client while I was still an Account Coordinator. These unique opportunities allowed me to prove my flexibility and ability to work in different situations and move up to the role of Junior Account Executive."
So whether your professional goals are contained to the U.S. or you have ambitions that will take you overseas, Touchdown wants to foster whatever your endeavors may be, because the more you achieve your personal and professional goals, the better Touchdown becomes as an agency.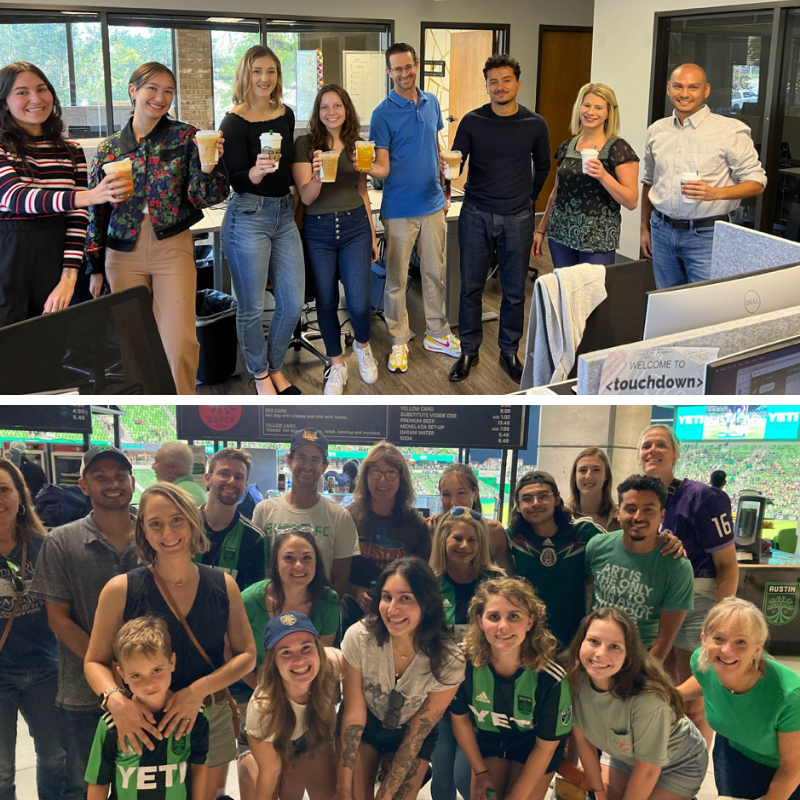 Training
The tech industry can seem daunting at first, but not to worry; Touchdown has a comprehensive training program that will leave you feeling confident and prepared for whatever challenges might be thrown your way. To name a few steps in the training process, you will be attending training sessions as well as meeting with account leads to learn all about the clients you will be working with. Not only will this training leave you well-versed in the various tools and techniques utilized by Touchdown, but it will instill the sense that the members of your team are always in your corner and willing to lend a helping hand. You will be working with people who have years of industry experience and have made a name for themselves and the work they produce. We highly encourage team members to utilize the wisdom and experience senior members of the team have and engage in conversation to see where your current knowledge of the PR and tech industry can be supported or supplemented. Get to know the members of our team before applying here.
The Tech and PR industry as a whole
According to a study done by the Business Research Company, the PR industry grew by 10.2% in 2021 alone. A steady stream of growth is to be expected, especially when considering tech PR, specifically. The tech industry is constantly growing and ever-changing, and the role of PR professionals is expected to mirror that growth.
If you want a job where each new day will present a new set of challenges and opportunities, then look no further than Touchdown PR. See our current openings here and take your first steps into the exciting world of tech PR.