What is Social Listening? and why is it important?
By Alexandra Morris, Brand and Marketing Manager
To cut through the noise and monitor mentions of your brand, competitors and products online, social listening is unmatched!
Around the world, 4.62 billion of us use social media every day. As the number grows, the volume of online conversation can be overwhelming. But with social listening, we can easily measure what's important – and what isn't.
Focused on customer feedback and competitor campaigns, social listening monitors conversations to produce meaningful insights for your brand. It helps to create a deeper understanding of audiences, and highlights the movements of your rivals online.
As a leading communications agency, we understand the value of social listening and the risk of turning a blind eye to it. So if you want to learn more about the topic, its benefits and significance for brands like yours, read on!
What is social listening?
Social listening refers to the tracking of online mentions and conversations related to your brand. Otherwise known as social media listening, the vital customer intelligence tool uses both competitor and audience research to action a response.
With social listening we can;
Respond to industry trends.

Improve our wider customer service by engaging with our audience.

Produce content that is both valuable and entertaining.

Stay aware of our competitors' movements online.

Reconfigure campaigns to match our researched goals.
What is the difference between social listening & social monitoring?
Often confused, social monitoring is a simpler way of tracking engagement relevant to your brand. It focuses on mentions, hashtags, industry trends and competitor behavior to look back and measure success. Social listening, on the other hand, looks beyond the data to focus on future results.
Social monitoring identifies, tracks and responds to engagement from an existing audience.
Social listening identifies new audiences that could benefit from your product, shifting promotional focus accordingly.
How can a social listening strategy benefit your business?
You wouldn't drive without a license, would you? Or buy a house without researching the area first? In communications, social listening is a crucial planning tool. It provides valuable consumer data that keeps your brand wise to the market, and promotes a customer focused mindset to decipher brand direction.
It helps you get to know your audience, complete competitor research, analyze campaigns and avoid PR disasters. Here are some of those benefits in more detail!
Get to know your audience
At the heart of every brand is its audience. With social media listening, we can better understand their needs to tailor our marketing strategy. Moreover, according to research conducted by Sprout Social, responsiveness can positively influence consumer behavior. In short, engagement conducted as a result of social media listening is more likely to result in action.
Competitor research
Want to keep an eye on every decision your competitors make? Competitor research, as another benefit of social listening, can identify gaps in the market and opportunities for improvement. Similarly, paying attention to the industry in general can highlight threats in real-time.
Campaign analysis
To analyze and reconfigure your brand's campaigns, social listening is key. Using the tool, you can identify key audiences drawn to your platformss, highlight their demographics and re-target your approach.
Collaborative opportunities
By highlighting the key influencers in your industry, social listening can even present opportunities for collaboration. As trusted individuals with a large following, they increase confidence, help you connect with your online community and present opportunities for growth.
PR disasters
As social media listening tracks your audience in real-time, you can identify a PR disaster before it strikes. In the form of negative reviews or increased engagement, your findings can highlight the issue before it gets out of hand.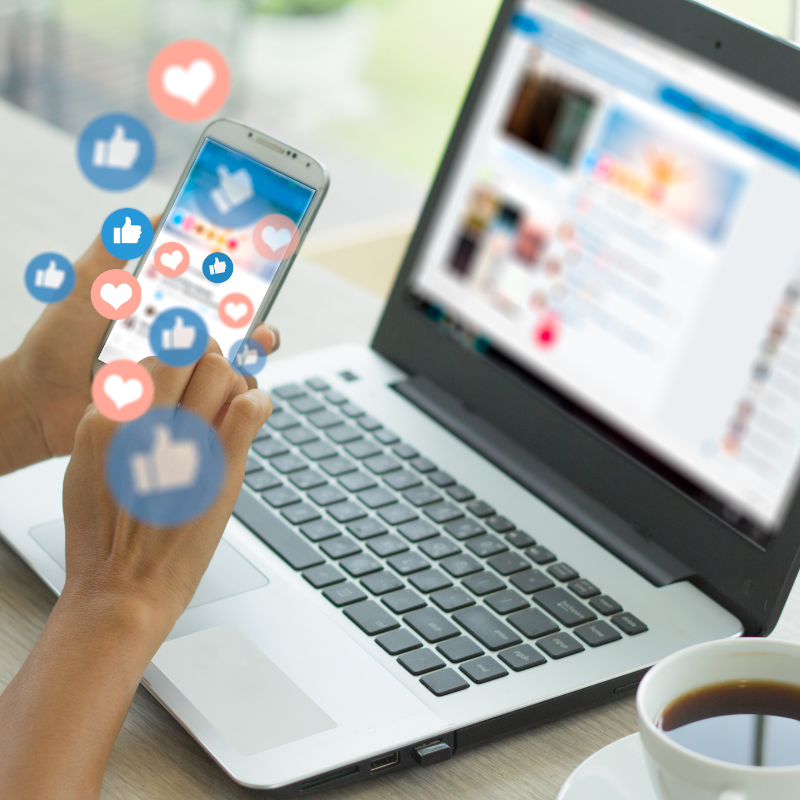 What are the best social listening tools?
Feeling overwhelmed? Don't be! To conduct an effective social media listening strategy, you don't have to sacrifice hours of manpower. Instead, your social media manager should lean on the support of a social listening tool.
Specifically designed to monitor your audience, gather competitive insights and highlight trending topics relevant to your brand, they're crucial in communications. Best managed by your resident content expert, they're designed for busy social media managers, with multiple campaigns to run.
Here's five of the best of them, as recommended by our content team!
Hootsuite
With Hootsuite, your social media manager can enable streams that monitor conversations, keywords, mentions and hashtags relevant to your brand. Via one dashboard they can observe multiple platforms, identify your competition and build relationships with influencers in your community.
Take me to Hootsuite
Hubspot
For enterprises, HubSpot monitors interactions, conversations and audiences all from one handy dashboard. With the tool, your content expert can respond to interactions, target specific audiences and monitor keywords they deem relevant to your brand.
Take me to Hubspot
Sprout Social
A comprehensive social media management tool, Sprout Social also provides powerful solutions for social listening. Via a unified smart inbox, your social media manager can monitor and manage engagement, uncover trends in social conversations and gain actionable insights to inform your marketing strategy.
Take me to Sprout Social
Brandwatch
Favored for customer experience management, Falcon is an ideal social listening platform for medium size companies with busy social teams. It provides historical and real-time data on your audience to segment and target leads for customized campaigns.
Take me to Brandwatch
Brand24
Targeting businesses of all sizes, Brand24 features a mention feed to provide insights into the perception of your brand. It reports on increased mentions to identify changing behaviors among your audience, and supplies sentiment analysis to give your social media manager an indication of your brands overall perception.
Take me to Brand24
Our Top Social Listening Tips
Social listening is a vital tool, but only when it's completed correctly. To make sure you're gaining the best insight into your customer's online conversations:
Pay attention to the right content, including mentions, hashtags, names of stakeholders and topics related to your brand.

Keep tabs on the latest trends, news and influencers in your industry.

Look outside of your circle, to users that don't follow or directly tag your brand.

Be prompt in your response to always provide great customer service.

Know what your competitors are doing; if a strategy works for them, it'll likely work for you too.
As an award-winning, international communications and PR agency, we realize the value of social listening, and the positive impact it can have on your brand. To kickstart your social media marketing strategy with our specialist help, get in touch!