Encouraging, supporting and rewarding employee growth: Shannon's Story
Take a read of Shannon Cieciuch's story for a first hand account of what it's like to work at Touchdown PR and how our team strives to encourage and support all employees looking to progress and reach new heights in their Tech PR career.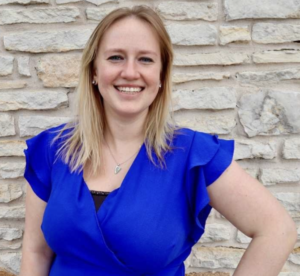 Shannon's job title: Account Supervisor
Joined the Touchdown team in: 2017
Office location: US- Austin, Texas 
After "touching down" in the greater Austin area in 2017 shortly after graduating college, I was looking to work for a PR agency that would allow me to travel and where the team truly enjoyed working with each other. A career in tech PR, at that point, was not on my radar. In terms of my growth, I was just looking to work my way up in a PR agency. I had come from a small marketing and advertising agency in upstate New York, and wanted to continue to work with a wide portfolio of clients.
When I was looking for PR agencies in the area, Touchdown PR caught my eye because of the international component and the photos of company socials on the website and social media. Everyone genuinely looked like they were having a good time with each other, and not simply just posing for the photo.
The interview process confirmed my initial impressions: the team was dedicated to not only providing the best services to clients, but also to lifting each other up and supporting each other's goals and careers. The multiple facets of tech Touchdown PR touched also attracted me to the company. I did not hesitate in accepting the offer once HR reached out to me, The offer was competitive for a recent college graduate and came with a generous amount of PTO plus perks like weekly trivia, company socials and more.
Career progression opportunities
I started at Touchdown PR as an Account Coordinator, and have since been promoted four times to reach the Account Supervisor level. When I first joined the company, I was responsible for supporting multiple client teams in media relations and the execution of PR plans. I was able to quickly dip my toe in projects such as coordinating campaigns, writing content and identifying pitching opportunities. Everyone was encouraging and answered all of my questions — even the silliest ones.
There's been tons of successes and fun along the way to Account Supervisor, too many to name in just a short case study. One of the biggest highlights was, as a Junior Account Executive, going to visit our U.K. office for the first time with our inter-office travel program. I had never left the country, and it was incredible to be able to experience not only a new culture but get to know my colleagues from across the pond.
Supporting Shannon's career
I was lucky enough to be assigned Alyssa Pallotti, one of our current vice presidents, as a mentor shortly after I first started. Throughout my entire time at the company, she has been one of my biggest cheerleaders and catalysts for my growth. Not only has she helped me establish what objectives I should be focusing on for each level, she has taken active steps to help me cross them off my list. Because of her, and the guidance of James and the other company leaders over the years, I am now able to guide my direct reports in what I hope is the same way. They have all set the standard of what servant leadership and excellence looks like.
Career highlights to date
Each step has been filled with great accomplishments. As I said, there are too many personal ones to name in this case study, so I will pick my top one for each. At the Account Coordinator level, I was able to take charge and collate materials for our 2023 predictions campaign and help run the entire thing for all of our clients at the company. As Junior Account Executive, I was able to attend Black Hat, a major cybersecurity conference, and help drive a survey campaign for one of our clients. During my time as Account Executive, I helped keep company culture alive in the midst of the pandemic and ushered in some new business. As Senior Account Executive, I began to take a more active role in checking to see we were meeting initial client objectives. Now, as Account Supervisor, my highlight truly is getting to achieve quality results for my clients, with the help of my amazing times, on a daily basis.
There's a reason I have stayed at Touchdown PR throughout the past 4.5 years. During my time here, I have truly grown my skills as a PR professional and have had a lot of fun along the way. I thoroughly enjoy getting to work with organizations and colleagues across the globe on a day-to-day basis. In the midst of both professional and personal challenges, I have felt nothing but full support from my global colleagues. I am not exaggerating when I say that every single day I learn something new from the journalists I work with, my mentors and my clients. Throughout my time here, I have been able to travel to San Francisco, Las Vegas, Houston, London and more. Touchdown PR has transformed me into the tech PR professional that I am today. In the years to come, I'm looking forward to seeing Touchdown PR's growth under the Ruder Finn umbrella.
For anyone who is looking to kickstart their career in tech PR, I highly encourage you to "touch down" on our career page, and see the opportunities we have open. We would love to have you on the team, and can't wait to meet you.